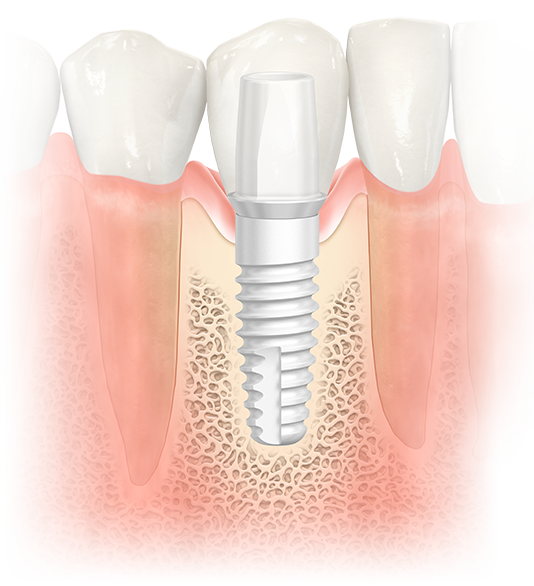 To replace teeth metal-free / titanium-free, you can also get ceramic implants on request. A ceramic implant is made of zirconium oxide, a high-strength ceramic, which is also used for dental crowns.
In the case of a so-called titanium intolerance, which can be determined by means of an allergy test, ordinary dental implants made of titanium are also contraindicated. However, nowadays a completely metal-free dental prosthesis made of ceramics is possible.
The advantages are to be seen in a special biocompatibility by the use of the material zirconium oxide. Also, in the case of anterior teeth, the white color of the ceramic implant prevents the gums from appearing dark, as is sometimes the case with titanium implants. Furthermore, the risk of inflammation around the implant is reduced because bacteria are less likely to adhere.
When choosing the implant system, we rely exclusively on an established manufacturer – "Swiss made". Its innovative two-part implant system is particularly future-proof.
Implantation procedure with ceramic implants
The procedure is usually as follows:
Following a consultation, a 3D X-ray is taken.
The implantation and, if necessary, bone augmentation are planned with the help of a computer and the procedure and any questions are discussed with you.
The implantation is performed under local anesthesia and takes about 30min. to 2h. depending on the number of implants, including preparation and follow-up. For the days after the operation you will be prescribed a painkiller and, if necessary, an antibiotic.
After about 1-2 weeks, a follow-up check and suture removal will take place.
After a healing period of 3-6 months, a scan of the dental implant(s) is performed.
The dental crown(s), individually fabricated in our own ceramic laboratory, is/are placed after 1-7 days.
For complete restorations, e.g. on 4-6 implants, approx. 3 appointments with 1 week intervals each are required.
Control appointments are arranged.
If you have any further questions or are interested in a ceramic implant, please call us at 01/214 21 27 to arrange a consultation.
Dr. Lukas Rudolf